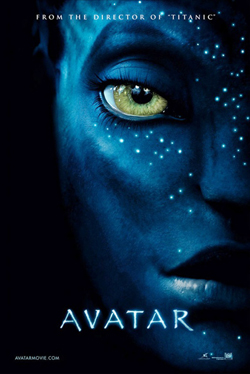 I have no desire to see the movie Avatar.
I realize that, in some ways, I have just committed some kind of sin that shall get me ostracized from geek subculture, but the statement is true. I'm just not interested. I fully admit that the film looks to be a special effects bonanza. James Cameron has never failed to deliver in that particular regard, and some of the films from his body of work are all-time, and often quoted, favorites of mine (especially Terminator and Aliens). Cameron also directed another film that I saw in the theater called Titanic. In fact, I saw it in the theater three times. That little blockbuster of a film broke all kinds of records and got a whole bunch of Academy Award nominations.
I can't watch it today.
I mean, I could…but I can think of a lot of things I'd rather do with my time. Things like, I dunno…cleaning my ears. Checking my cat for worms. I think you get my point.
The reason I feel that way about the film is because I feel like Titanic was, ultimately, a rip-off. Cameron made sweet, sweet love to our eyeballs for a few hours and did so in a mind blowing fashion but the next morning he was gone and he left a note on the bathroom window saying that we might want to call our doctor and get checked for STD's. Titanic had the potential to be a movie that would stand the test of time, and the fact that he created a bogus story to tell on top of the tragedy that was the Titanic is, in some ways, a bit insulting to those who died that day if you really think about it. It's pretty much a statement that, of all of their stories, none of them were good enough to get people to come to the theater and watch a movie. Not really a valid statement when he had Kathy Bates playing "the unsinkable" Molly Brown.
Now I know a lot of you might look at the fact that I saw Titanic in the theaters three times and say "Well, you obviously enjoyed yourself when you went to see it." You'd be 100% correct. I did. I cannot argue that fact, and I'm not ashamed to admit that I thought it was an awesome film at the time.
I'm older now, though, and I have those rose-colored glasses on. I'm also, financially, in a place where I have to be a little more choosy about where I spend my money (largely due to the fact that back then I wasn't and I did stupid shit like going to see the same movie in the theaters three times). Avatar looks amazing, but everything I've read about it so far excuses the plot. Everything. There isn't a single person I know, or article I've read, that has managed to avoid excusing the plot in the terms of the special effects.
I find this utterly unacceptable in a film that is reported to be the most expensive film ever made.
Really.  The movie reportedly costs $500 million dollars to make. He could easily have dropped a few million on some writers who were worth a damn and gotten a decent story out of it as well.
Why, you may ask, didn't he do that?
Because he wrote the fucking thing.
If you look at the two movies I mentioned as being favorites of mine?  Cameron was a writer on them, yes. But Terminator was loosely based on a short story by Harlan Ellison and had a team of writers. Aliens had a bigger one.
Titanic? Solo writing credit for Mr. Cameron.
Avatar? Solo writing credit.
You see where I'm going with this.
It's the same bullshit George Lucas pulled with the Star Wars films. Lucas is a visionary and had an amazing story he could tell. He also had a host of writers who had written some phenomenal stories set in the Star Wars universe that he could easily have hired to work on his movies (Timothy Zahn, author of the stellar Heir to the Empire series, comes to mind). Instead he chose to write the movies himself and, well, we've all seen how well that came out.
I'm tired of the excuse that special effects movies are, ipso facto, allowed to be devoid of the basics of good storytelling and character development. In fact, I reject that argument outright. Why? Pixar. Those folks manage to turn out computer generated films that are 100% special effects and yet they take the time to focus in on the plot. Blade Runner is another one that comes to mind. Hell, the thing that made The Dark Knight such a mind-blowing movie was the performance of Heath Ledger as The Joker, and that wasn't necessarily a cheap movie to make, either.
I am not opposed to popcorn films. I still say Starship Troopers is a great flick and that was about as devoid of real plot and character development as you can get. I have a very hard time, however, swallowing the bitter pill that is the fact that the biggest budget film ever is one in which those who review it make statements like I can't say I was moved, and it doesn't match "Terminator 2" for excitement, but for size, spectacle and sensory overload, "Avatar" delivers on the hype. For better or for worse, it's a must-see. (CNN.com, Review: 'Avatar' delivers on the hype).
As an actor and a member of an artistic community here in the Tampa Bay area that is desperately struggling through this recession I cannot bring myself to drop the $20 it would cost to see this film when that money (if it was there) could get me in to see a night of live theater instead. Or, for that matter, could get me in to see the latest Cohen brothers film. I'm not saying that I will never see Avatar, nor am I saying that there is no way I'm going to enjoy it when I finally do, but for the time being I think this one is going to have to be on my "wait for the DVD" list.
P.S. If your first thought about reading that statement was "but you won't enjoy the movie if you don't see it on the big screen" you've just validated everything I wrote above.