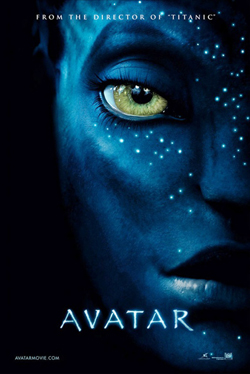 I have no desire to see the movie Avatar.
I realize that, in some ways, I have just committed some kind of sin that shall get me ostracized from geek subculture, but the statement is true. I'm just not interested. I fully admit that the film looks to be a special effects bonanza. James Cameron has never failed to deliver in that particular regard, and some of the films from his body of work are all-time, and often quoted, favorites of mine (especially Terminator and Aliens). Cameron also directed another film that I saw in the theater called Titanic. In fact, I saw it in the theater three times. That little blockbuster of a film broke all kinds of records and got a whole bunch of Academy Award nominations.
I can't watch it today.
I mean, I could…but I can think of a lot of things I'd rather do with my time. Things like, I dunno…cleaning my ears. Checking my cat for worms. I think you get my point.
The reason I feel that way about the film is because I feel like Titanic was, ultimately, a rip-off. Cameron made sweet, sweet love to our eyeballs for a few hours and did so in a mind blowing fashion but the next morning he was gone and he left a note on the bathroom window saying that we might want to call our doctor and get checked for STD's. Titanic had the potential to be a movie that would stand the test of time, and the fact that he created a bogus story to tell on top of the tragedy that was the Titanic is, in some ways, a bit insulting to those who died that day if you really think about it. It's pretty much a statement that, of all of their stories, none of them were good enough to get people to come to the theater and watch a movie. Not really a valid statement when he had Kathy Bates playing "the unsinkable" Molly Brown.
Now I know a lot of you might look at the fact that I saw Titanic in the theaters three times and say "Well, you obviously enjoyed yourself when you went to see it." You'd be 100% correct. I did. I cannot argue that fact, and I'm not ashamed to admit that I thought it was an awesome film at the time.